The tanks
The Øresund Aquarium specialises in displaying the fascinating and colourful flora and fauna in the local waters of Øresund and Kattegat. Due to the particular current and salt conditions in Øresund, creating fjord conditions on the surface and an authentic marine life at the bottom, it is possible to see most of the fish and other marine animals living in Danish waters at the Øresund Aquarium.
The three types of tanks
The Øresund Aquarium has three different types of tanks, namely biotope tanks, themed tanks, and a touch tank for adults as well as the very popular children's touch tank.
1) Biotope tanks
The basic tanks of the exhibition are biotope tanks, which are reconstructions of 15 different sea bed environments or biotopes in the Øresund (the Sound) and Kattegat areas, so that in this series of tanks you move from the sandy seabed of very shallow waters (15 cm) across eelgrass and rocky seabeds to the muddy sea beds of 35 metres depth, and again across seabed cliffs and shipwrecks to a section representing Helsingør/Elsinore marina (Nordhavnen) at 4 metres depth.
2) Themed tanks
In addition, there are a number of themed tanks, i.e. smaller tanks home to small sea creatures that are often overlooked in larger aquariums or whose behaviours are particularly interesting. Here, regular changes are made to the exhibitions to highlight interesting aspects of the life cycle of individual marine animals. The themed tank wall was modernised in the spring of 2000 and there are now twice as many tanks, including a newly constructed jellyfish tank.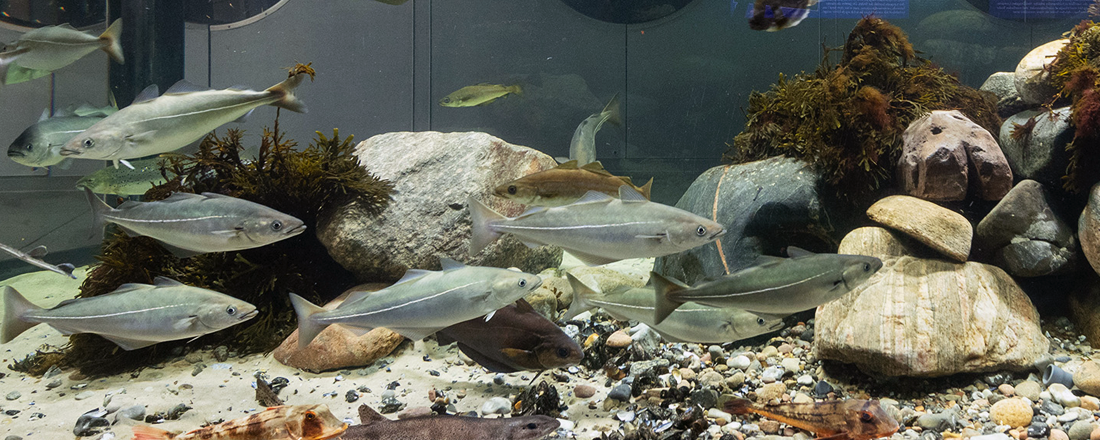 3) Touch tanks
Last but not least, there is a large children's touch tank by the entrance, which accommodates three different heights of children (and adults!). Here, you can touch some of the sea creatures you have seen in the other tanks, such as sea uroons, sea urchins, crabs, various fish, etc. Situated by the exhibition entrance there is also a combined touch tank / biotope tank for adults (illustrating the cold-seep reefs of Kattegat). Here, adults are given the chance to touch the noses of thornback rays and the strange skin of the small-spotted catshark.
Our biology guides are marine biology students and assistant students who will share their extensive knowledge about the various marine creatures in the Aquarium.